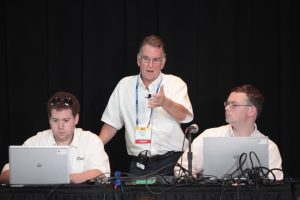 With a great deal of input from our education partners and seminar series, IBEX is able to pull together some of the greatest minds in the marine industry.
This year's IBEX Seminar Series (October 4–6 in Tampa, FL) is brought to you by the American Boat & Yacht Council, American Boat Builders & Repairers Association, and National Marine Electronics Association, as well as IBEX's co-owners National Marine Manufacturers Association and Professional BoatBuilder magazine, which is responsible for the bulk of the sessions.
As a former associate editor for Professional BoatBuilder magazine and as someone who has been working with IBEX since the late 1990s, I have had the pleasure of meeting such forward thinkers in our industry as Nigel Irens, Gino Morelli, Pete Melvin, Michael Peters, and Meade Gougeon, as well as Dick Newick and Olin Stephens.
This year is no different.
Through the ProBoat-organized seminars, I'm eager to meet world famous designer Harry Schoell face-to-face when he comes to IBEX in October to join a panel with Dick Akers, Robert Kaidy, and Jeff Bowles to discuss New Advancements in Stepped Hulls and Avoiding the Bad Turns. I look forward to getting re-acquainted with Val Jenkins—the high-regarded production engineer with Tampa Yacht Manufacturing—who will be at the show as part of a larger panel of engineers and builders pulled together by New Zealand-based High Modulus' former owner and current composite specialist Richard Downs-Honey to develop a center-console design in real time before our very eyes as we Return to Engineering Live.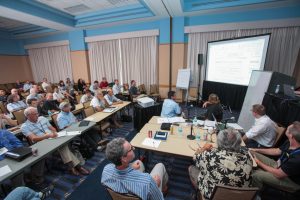 That isn't the only trick Richard Downs-Honey has in his bag. He has also pulled together a brain trust that includes America's Cup boat builder Eric Goetz, wind-turbine nee composite-boat engineer Ed Findon, and business development manager Pete Levesque from Hall Composites to discuss options Beyond Boatbuilding—a seminar Downs-Honey initially wanted to call "How To Get Out of Boatbuilding," but, come on now, that's simply preposterous.
I've outlined just a smattering of the 57 seminars at IBEX in October in Tampa. I haven't even touched upon IBEX's other education partners. Stay tuned for more information on the hands-on dockside seminars and systems trainings, organized by the American Boat & Yacht Council; the work the American Boat Builders & Repairers Association is doing in workforce development and HR; the significance of the IoT (aka the Internet of Things) as put forth by the National Marine Electronics Association; and the many management seminars produced by IBEX's co-owners, the National Marine Manufacturers Association, including a must-attend 90 minutes when John McKnight will discuss EPA Boatbuilder Residual Risk Regulations and how a potential boat-manufacturing regulation similar to the MACT standards in the 1990s may affect your business.
This and more, I will discuss in upcoming blog posts.
Sarah Devlin
IBEX Education Director