As I've mentioned in past IBEX blog posts, I rely heavily on IBEX's education partners to develop seminars that reflect what's happening in the industry today. IBEX co-owner, the National Marine Manufacturers Association (NMMA), is no different.
While I am aware of the Clean Air Act and the MACT Standards from the early 2000s and have read about what kind of impact the residual risks will have on standards the EPA is developing, I cannot in any way speak intelligently about it. Nor, I have to admit, would I be able to pull a seminar together that could cogently explain what is happening here.
This is where John McKnight, Senior Vice-President of Government Relations at NMMA, comes in.
According to section 114 within the Clean Air Act Amendments of 1990—the amendment that led to the MACT standard—the EPA was required to review MACT Standards after eight years to determine whether any residual risks exist and reduce these risks if necessary. You can read more about the issue in a Soundings Trade Only article by Reagan Haynes, published in mid-August.
The EPA did not conduct these residual risk assessments for 32 industry segments. They are facing legal action because of it. And, the boat manufacturing industry is one of those industry segments. This means that the EPA is conducting surveys to determine whether hazards really changed due to the MACT Standards or whether updated standards need to be put in place.
For EPA Boatbuilder Residual Risk Regulations: What it Means for Your Business (Wednesday, Oct. 5), McKnight is bringing Jack Snyder, the executive director of the Styrene Information & Research Center, toxicology expert Dr. George Cruzan of ToxWorks, and EPA project manager Brian Storey together to pull this topic apart and get down to what this means for US manufacturers.
I've talked quite a bit in the press and within this blog about ABYC's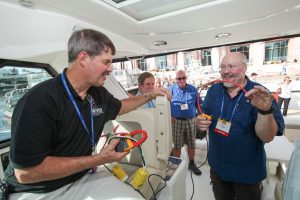 dockside seminars. They sold out pretty quickly, but the dockside, hands-on experience is still available through NMMA's seminar Onboard Diagnostics (Wednesday, Oct. 5)—a seminar split into two parts, an IBEX first. Again, John McKnight has gathered the panel together. This time, we'll be hearing from reps from Rinda Technologies, Indmar Products, and Volvo Penta as they discuss ways to diagnose engine problems before bringing you to the docks to show you firsthand.
For another IBEX first, McKnight will have experts from the California Environmental Protection Agency and the California Air Resources Board join us at IBEX electronically, with McKnight and Dan Ostrosky from Yamaha onsite in Tampa, to talk about California's Evaporative Emission Regulations (Wednesday, Oct. 5). After model year 2018, you'll have to adhere to these standards if you plan to install gasoline fuel systems in vessels for sale in California. Do you know what that means?
That's not the end of NMMA's seminars at IBEX. If you're manufacturing recreational vessels to send to the EU, you need to be aware that ISO 12217: Small Craft and Buoyancy Assessment and Categorization has undergone multiple changes since 2002, most recently in 2015. Some ISO standards allow for a grace period, for lack of a better word, before the standard is formally adopted to make way for any facility improvements or production line modifications. Do you know whether ISO 12217 falls into that grace period? Do you know whether you're producing boats that meet the standards? NMMA can tell you at IBEX during the seminar ISO 12217: Stability (Tuesday, Oct. 4).
But wait, there's more. NMMA is offering two free sessions at IBEX. While technically not part of the IBEX Seminar Series, they are still vitally important.

With ABYC, NMMA is hosting a Tech Talk Workshop: Aquatic Invasive Species Update (Wednesday, Oct. 5). Infestation of Aquatic Invasive Species (AIS) on waterways has already impacted the boating experience, creating delays at boat launches due to long lines for inspections and decontamination. The industry is working hand-in-hand with the environmental community to reduce the impact on the boating experience while preventing further spread of AIS. When the waterways are choked up, people go golfing. Join this workshop to learn more about current industry actions and how you can help reduce the impact of AIS on recreational boating.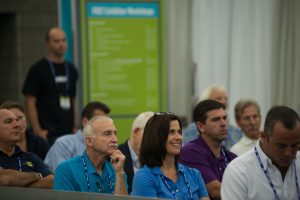 Last, but certainly not least, on Wednesday, October 5, NMMA and Discover Boating will be unveiling new research in a special session called How to Win with the First-Time Boat Buyer. Boat-buyer demographics shift and as an industry we need to be aware of who we're talking to, who we're selling to, and how we talk to these potential boaters. I haven't seen these statistics, but I am very eager to attend this special session to see what attracts new boaters to their first purchase. It's free. You may as well pop in yourself.
Within the IBEX Seminar Series, we offer 57 seminars, plus seven Super Sessions and 17 free Tech Talk Workshops. If you're interested in attending any of these trainings, I urge you to visit our registration page today. If you have any questions, just give the IBEX registration team a shout at 484-751-5135 or ibexregistration@expologic.com.
-Sarah Devlin
IBEX Education Director